Sound Dialogue: Maarten Goetheer
The rise of Asia's music scene has been remarkable in recent years, with festivals held in various cities as well as the appearance of new artists and platforms. And the scene has maintained its momentum even after the pandemic.
Tsubaki FM is launching a new project 'Sound Dialogue': an in-depth exploration of the Asian music scene, which has yet to be widely recognised in Japan. Through this project, we aim to find hints for creating artists of the future and revitalizing the music scene.
The first episode of 'Sound Dialogue' features Maarten Goether. Maarten is a DJ and producer born in Amsterdam, who has been DJing since the age of 17 and has been active in local clubs and DJ competitions since then. After winning several DJ competitions and serving residencies at clubs in his hometown, Maarten found himself drawn to Asian music culture and moved to Bangkok, Thailand.
Over the 10 years of his career in Bangkok, he has formed a connection with numerous artists and built his own community. He directs Thailand's largest music festival Wonderfruit Festivals Ziggurat stage in the past. as well as local radio station in Bangkok "Sabai Sabai Radio".
In this dialogue with Maarten, Tsubaki FM's Midori Aoyama – who performed at Wonderfruit Festival in 2019 – asked questions to discover his various perspectives on the culture, his own roots in music, his current activities and beyond.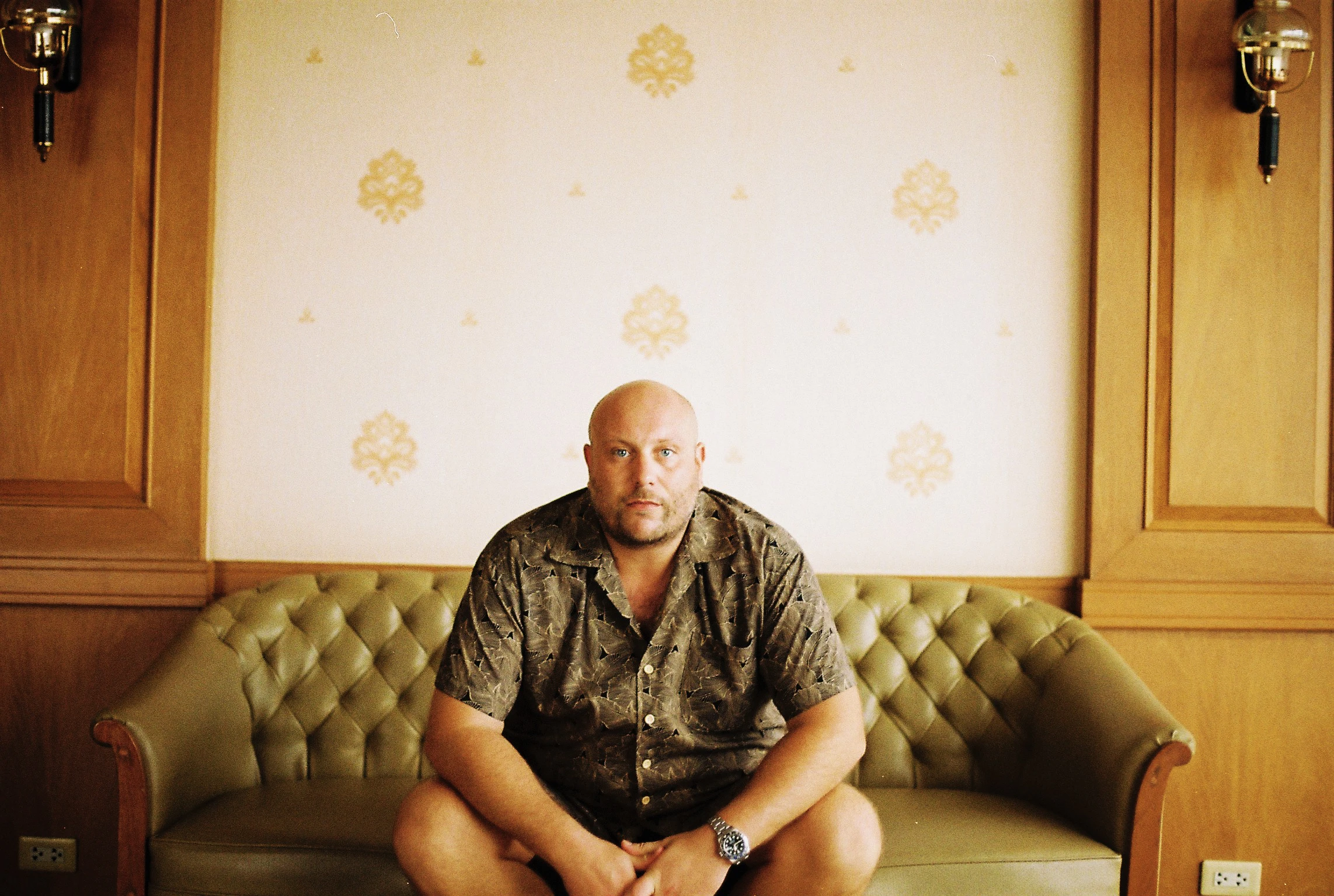 -Tell us about your musical roots and background.
My dad plays the piano, mostly jazz. When he was young, around 16, he used to play and perform in a jazz trio. So growing up, there was always a lot of music in the household. That's when I started to pay attention and it made me interested.
Then, he took me to the North Sea Jazz Festival in The Hague and we saw Courtney Pine, a saxophone player from England and he had a DJ with him. It was DJ Pogo from the UK and he was scratching. When I saw that, that's when I wanted to become a DJ actually. This is before the internet. So when he took me to see the concert to see the DJ on stage, as a young guy who wasn't going to clubs yet because I was only 15, I was blown away. I really liked him. And basically, I went home and took my sister's turntable and tried to scratch. But I didn't scratch by moving the record like this, but I put the needle like that so I just destroyed her record player. I think she didn't talk to me for like a week after that. That's kind of how I started my journey.
-So, then you started to pay more attention to music and maybe started digging records or playing some instruments?
I was lucky because my sister is a bit older than me – 5 years – and she was dating an even older guy at the time and he was a B-boy back in the day. So he's a music head. He would come and teach me everything about music and he would give me crates of records, like old Hip-Hop records, a really broad range from old school stuff like Cold Chillin' label, Big Daddy Kane, M.C. Shan, but also Tribe Called Quest. He was also into Trip Hop, which was just coming up at the time, so Mo'Wax label, Ninja Tune – and that's how I first got introduced to Japanese DJs, like DJ Krush. He had that album of DJ Krush on Mo'Wax and he was also into Drum 'n' Bass very early on. Kind of when the transition was from Jungle to drum and bass, so he would introduce me to artists like Roni Size, LTJ Bukem, Logical Progression. And that's kind of the link for me later with house music because he featured a track that sampled the vocals of 'Love & Happiness by India' (Peshay – Vocal Tune) in his compilation album 'Logical Progression'.
So, for a lot of my musical influences, I really am thankful to him actually. You know, sometimes you're young but you meet somebody with a big passion for music and it really makes you interested. Like "why is this person so crazy about music?" So yeah, I really fell in love with Hip-Hop and also other genres. Also Nightmares on Wax was a big one too, I definitely spent a lot of hours listening to that album 'Smokers Delight' because it's very atmospheric.
A few of the artists you mentioned are UK based – did you ever go to London or Bristol for parties and festivals?
Amsterdam and London are so close to each other, so there is a lot of influence. Drum 'n' Bass was starting when I started going out. It was pretty much just out – this style of music had just arrived – so it was mind-blowing for me to go to a whole evening of that music with this special sound, this special way you move to the music, dancing. I think you can imagine being young and having this whole new sound and it was very impressive to me.
Holland is very famous for house music too, I think after the United States and England, we were the biggest fans of house music. When it just came out, my brother and I used to go to a legendary club in Amsterdam called RoXY. You would have the people like Hard Soul, Roog & Erick E. These people are all pioneers of House music in Holland. It's funny because we used to call it "Mellow House" so we had Outland Records. Mellow House is not a genre that anyone else in the world used but the Dutch. We used to call it "Mellow". I think this was because we also had Gabber. So you had both the Mellow House people and Gabber people – of course it was like 140 BPM.
So yeah, the clubbing experience really informed my interest and I would say that Amsterdam had such a strong local scene. So by going out, I was learning all the time. When Rush Hour was first starting out, you had the Kindred Spirits nights, so Antal was starting but also KC The Funkaholic, you had people like Steven de Peven, Red Light District. So just being around that environment was really inspiring to me as a young kid, learning…
-Was that the early 2000s?
Earlier. I started going out in the late 90s, even doing DMC contests and in '97, I became a rookie champion. It's funny, going back to the DJ Pogo, North Sea Jazz story, that performance was videotaped for Dutch TV and I was so lucky, I recorded it too. I just played it back and played it back to learn what he was doing, so I knew the record he was using – it was Public Enemy – but I didn't understand that he was using doubles because there was no Youtube, right? There were no resources on the Internet. Then after that, it's just practice. So that performance, seeing that in real life, was so electrifying for me and to see that it was mixed with jazz, it really made it very interesting for me as a young 16-year-old kid. Definitely, like I said, that was really the start.
-So you started DJing, and then started doing your own parties in the local scene?
Yeah, that's right. Close to the Rush Hour store, there was a club called Bitterzoet – Bittersweet in English – and that's where I started the first of my residencies. Amsterdam is very competitive. You have to slowly build up your name and it's all about trust. Back in those days in Amsterdam, it was crazy because the older generation was so good. But somehow, I did make it happen and we did a night there every month and we had some great nights.
This was all when I was still in my early 20s and then I made the move over to Asia pretty quickly after that.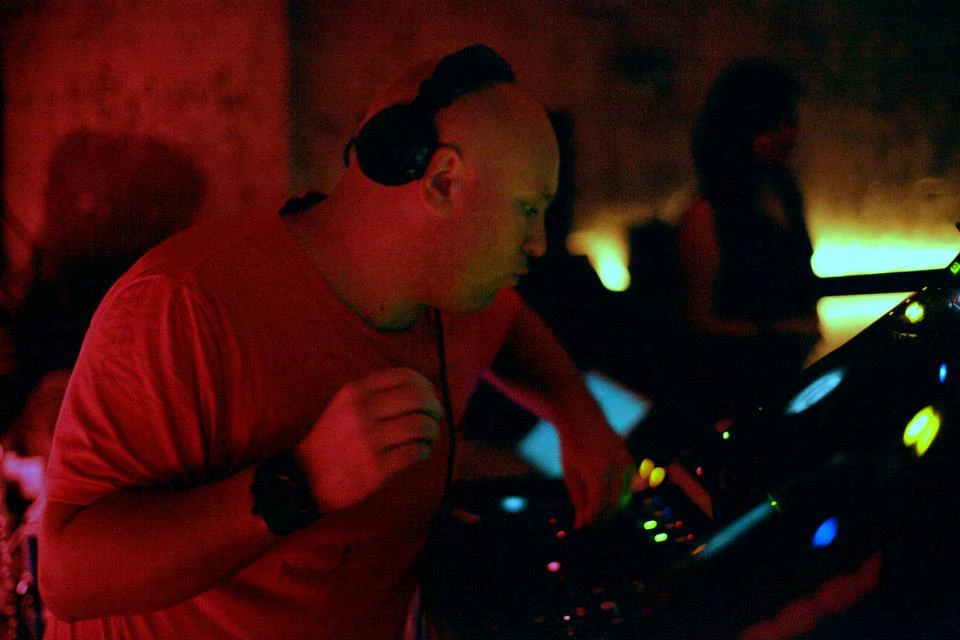 -When did you move to Asia?
I moved to Hong Kong first. I was studying film at the University of Amsterdam and they had an exchange program. It was amazing, I was a young kid arriving in Hong Kong and this strange feeling, I felt at home right away, which was very interesting. I think that that was an important step and I remember, I took my bag of records with me.
So I arrived in Hong Kong and I somehow managed to start DJing which was amazing. I think I witnessed the second wave of DJing in Hong Kong. The first wave was the handover from England to China in 97, they would have big rave parties in Hong Kong with people like Pete Tong. These kinds of UK big guys would come. Then also my friend Andrew Bull who is a kind of Hong Kong legend. He organized a handover party, I think Grace Jones was there, and Boy George. So that was kind of the first wave of the Hong Kong party scene and then when I arrived, it was the second wave with smaller clubs. There was one club called Dragon-I owned by Gilbert Yeung who is a big house fan, so I got to see and meet Louie Vega, Gilles Peterson, all these people that came to Hong Kong.
Hong Kong is a huge city but the scene is very small so there's a lot of support which was amazing to me because Amsterdam was so competitive that nobody wants to give you a chance, you have to do it yourself. But in Hong Kong, because the scene is small and everybody wants some support equally, I found a lot of brothership there and I made friends that will be my friend for life because we shared that experience and so many nights out. When I used to DJ at some restaurants just to make money, we would all go to the good clubs after the gig, where they played underground music. That kind of feeling when you meet all your friends and you're all dancing. So, it was a very exciting time for me to learn about a very wide spectrum of house music and music in general.
-Then you moved to Thailand from Hong Kong?
Yeah, in Hong Kong, I was DJing at a place called Kee Club and the owner of the club got an offer to work in Bangkok and needed a music entertainment director so he asked me to join and go to Thailand so I took the job. He wanted somebody that he could trust and so I set up a place called Vogue Lounge in Bangkok, and we did some great parties there. We had Osunlade, Kiko Navarro, DJ Yas, DJ Fudge who was a good friend of mine. Everything I learned in Hong Kong, all the people that I got to connect with, I had somewhere in Bangkok to book them there. I designed the sound system, the DJ booth so this is some of the work that I do aside from DJing; I help hotels and clubs to design sound systems, acoustic treatments.
-What was your first impression when you moved to Thailand? Did it feel unestablished or was there a scene there?
Thailand has a pioneer DJ called Pete Disco. He's not famous, but I saw him play at my friend's festival which was kind of like a flea market. He had records and he was playing great banger after banger, all these disco classics. I look at him and I ask my friend who booked him, "Who is this guy?" and he's like "Oh, it's Pete. Today, he's just playing records from 1978". Pete had set himself the goal for that day just to play records from that year, 1978. The thinking is so amazing, he was singing over the songs and talking. For me, that's so interesting, the unsung heroes. If you look at the United States, everyone knows the heroes; it's Danny Krivit, Larry Levan, Tom Moulton, their stories are already told. But what's interesting for Asia, Japan is also quite well-documented because you have such a good jazz scene and disco. Whereas the DJ scene in the rest of Asia like Thailand and Hong Kong, nobody has any photos or footage but it was definitely here.
So that was the first generation, for the second generation Hip-Hop was very big here and you had DJs like Jedi, and others. For house music you have two guys, Funky Gangster which is Tom and MDJ. When Ministry of Sound came to Thailand, they were the resident DJs and back in those days you could only buy vinyls.
When I arrived in Thailand, it was maybe the third generation. Those guys are still around and then you have the new people. You also have festivals like Wonderfruit and others that bring everything together to try and showcase all those generations. Now in Bangkok, there's a pretty lively scene – there's a record label called More Rice and they're doing a lot of stuff, a lot of vinyl releases, they just opened a record store. Then you have someone like Maft Sai, the ZudRangMa Records store which really focuses on Molam, Luk Thang which is kind of like the equivalent of disco, jazz but in a Thai way, a traditional way with traditional singing which is super interesting.
So, my impression when I arrived here was that there was still a lot of room to grow and develop but definitely a lot of potential. That's when I started working for Beam Club where we designed a Void System – from the UK – which was quite an amazing project. We put the Subwoofer on the wooden floor and I was responsible for the international program. So, we had people from Derrick May, Dam Swindle, Peggy Gou, we also had other genres; people like Tokimonsta and Pomo. So yeah, we were doing a lot of stuff before COVID hit.
-Japan gets a lot of its musical influence from the US but it seems like Thailand and Hong Kong might be more influenced by the UK scene?
Definitely. It's important to understand Hong Kong's past because they were colonized by the British, the English influence is there. And I also think that you're right to say that Japan is looking to the US more, but that's because of the history. Japan already started very early and the American GI also influenced music as well. It's the same here in Thailand. When the Americans were stationed here during the Vietnam war, Thai musicians learned a lot from American musicians and that's why there are a lot of covers of American songs but in a Molam style.
I would definitely say that Thai people have an amazing feeling for music, for dancing. I really like the spirit of the Thai people, I think they really are out to enjoy life but not to force it. In the West, I found society really forcing ourselves to live a certain lifestyle; when you're young, you kind of have to choose. In Thailand, I feel like it's more open, there's more of a community feeling, people are used to sharing. It's a feeling that I really appreciate, that's the Thai Sabai Sabai attitude. Sabai Sabai is also the name of my radio obviously, but it translates as "letting go", "take it easy" but in a good way, like "okay, we're letting go", "we're living in the moment". I think that this kind of mentality goes from generation to generation.
What was the concept of Wonderfruit festival and how did you get involved in this project?
Wonderfruit is quite special because it's driven by the ambition to have a quality festival and the ownership is actually in the hands of only a few people and not a big corporation. It really helped the festival in terms of programming and atmosphere; it's not too commercial. This Festival has a good balance between commercialism and the quality of the programming – it's more independent. I was working with them from the second edition, as a DJ first and as I started to get more familiar with them, they gave some people in the Thai scene some responsibility, a chance, an opportunity.
In my case, they gave me a small stage to start. At Sabai radio, we're really interested in what's happening in the Asia-Pacific in terms of independent radio platforms, but we're not just limited to radio, it could also be party collectives. Throughout the years, we've made so many great connections – I do the radio with my partner Izzy and we really want to showcase independent talent, people that are working so hard to do something in their hometowns.
So, when I got the opportunity to do this stage, that was my concept – to give these people a showcase. From Kuala Lumpur, we had the Fono people, from Singapore it was Revision, Tsubaki FM just to name a few. In Seoul, you have Seoul Community radio. But these are all small collectives that are doing great stuff for DJing, for music. That's something that I find very important.
-It felt like there was a strong community with people from lots of different Asian countries and it was great for Tsubaki FM to be able to join and connect.
Yeah, Japan and the Asia-Pacific may not be well-connected yet, but Tsubaki FM seems to really value that connection and to see what people are doing. It's interesting because in Bangkok, there is actually a large Japanese community, including several great DJs. So I think that the relationship between Japan and Asia could be stronger and would give very interesting results. I understand it because it's the same in Amsterdam, the scene in Japan is already so strong, you feel less like you have to see what's going on elsewhere because you have everything – you've got DJs visiting all the time, you have great record shops. It's Tokyo, it's Japan – not just Tokyo actually, there's an amazing scene in Kyoto and maybe Sapporo.
The thing that makes it interesting for Bangkok, Kuala Lumpur, Seoul, is that we're a little bit smaller so we look at each other and it's also easy to fly – from Kuala Lumpur to Bangkok it's about an hour, it's like flying from Tokyo to Kyoto, right? So, the connection is made very easily and the cool thing is that for me, as a record collector, every scene has its own history.
So, definitely for Japan, I think it would be really interesting to have that fusion and to start looking to be interested. And I think this is something – aside from this interview now – that we can start working on together because it doesn't have to be the highest level, playing this or that club, etc. I really believe in grass roots, it's about connecting the dots and creating a sense of community. To be honest, I've been a DJ for 25 years and the most interesting sets that I hear are not always from famous people. Sometimes I get emotionally touched by or I dance really crazily to a DJ that's not so famous. That's something that I noticed traveling in Asia, DJing with these people, everybody has something to say and it's even more interesting sometimes to have some DJs from Kuala Lumpur, for example, rather than from the US DJs that have toured for many years and that just come to Asia.
We should look at artistry based on the art and the music. I really hope we don't follow the media's obsession with categorizing artists based on gender, sexuality, race, appearance, social standing. I truly believe that the music comes first and that, although our identity is very important, it should not be used to define us as artists. Too often the media will fetishize the identity of an artist and they won't be recognized for the actual talent or the actual art that they represent. I hope as a DJ collective and a culture that we can transcend this and champion our culture in an honest way based on equality. Since these are the very pillars that House music was built on.
-Tell us about the general concept behind your mix.
The mix takes you through my musical journey. It starts with my early influence from my father. "Song for My Father" (original by Horace Silver) is one of the songs that my dad used to play a lot on the piano. Also some memories from the North Sea Jazz Festival, seeing Roy Hargrove in a three-piece at the after-party jamming with Macy Gray and other people was a very special experience to me. That goes on nicely to my later influences of HipHop such as Jazzmatazz and Nightmares on Wax, then continues to my personal transition into House music. When Masters At Work came out with Nuyorican Soul, it was a big kind of shift for many people in Holland.
The older I get, the more I can see the relationships within music. At first it seems that everything is unrelated and you think that all these genres are like different planets. But then you realize that everything is so connected, it makes it very interesting and worthwhile for me. And then of course, I have to give it up for Larry Heard who had a big influence on me. Larry Heard is somebody that makes House music without trying to make House music; you can really feel that natural vibe and that's what I really love.
So, my mission as a DJ, as a musician, is to bring back the feeling. I'm not talking about any specific genre because it doesn't matter to me, but just that feeling. It doesn't always have to be loud or big sounds, so that's kind of what I'm interested in nowadays, making those connections. At the end of the day, DJing is hard work; I have a story to tell, you have a story to tell, we have to fight how to tell that story, you could never tell my story. So, it's about how to create an atmosphere where people will care to listen for you.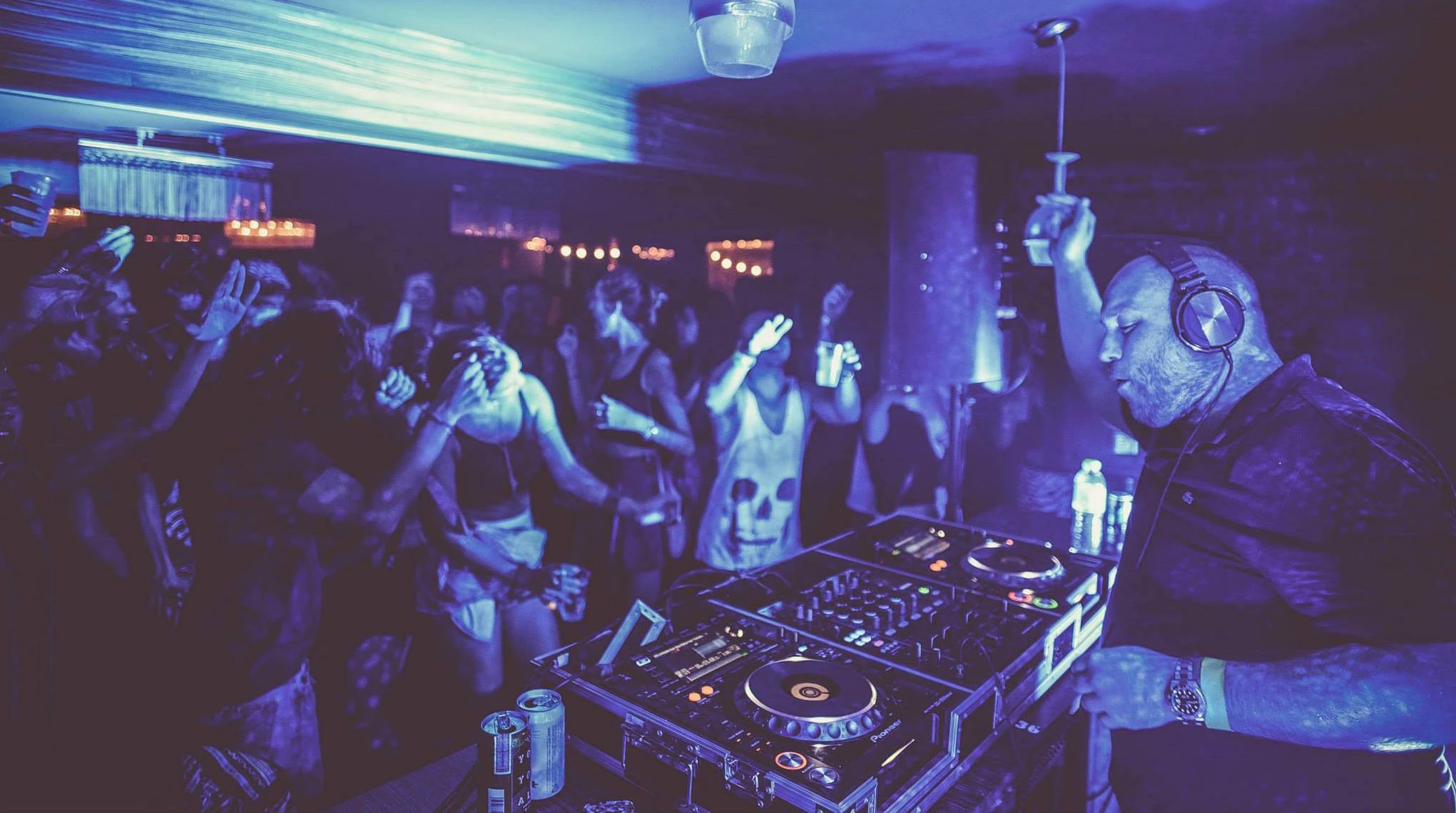 Interviewed by Midori Aoyama
Edit by Tsubaki Fm Editorial Team
-日本語版はこちら